Welcome to The Organic Tshirt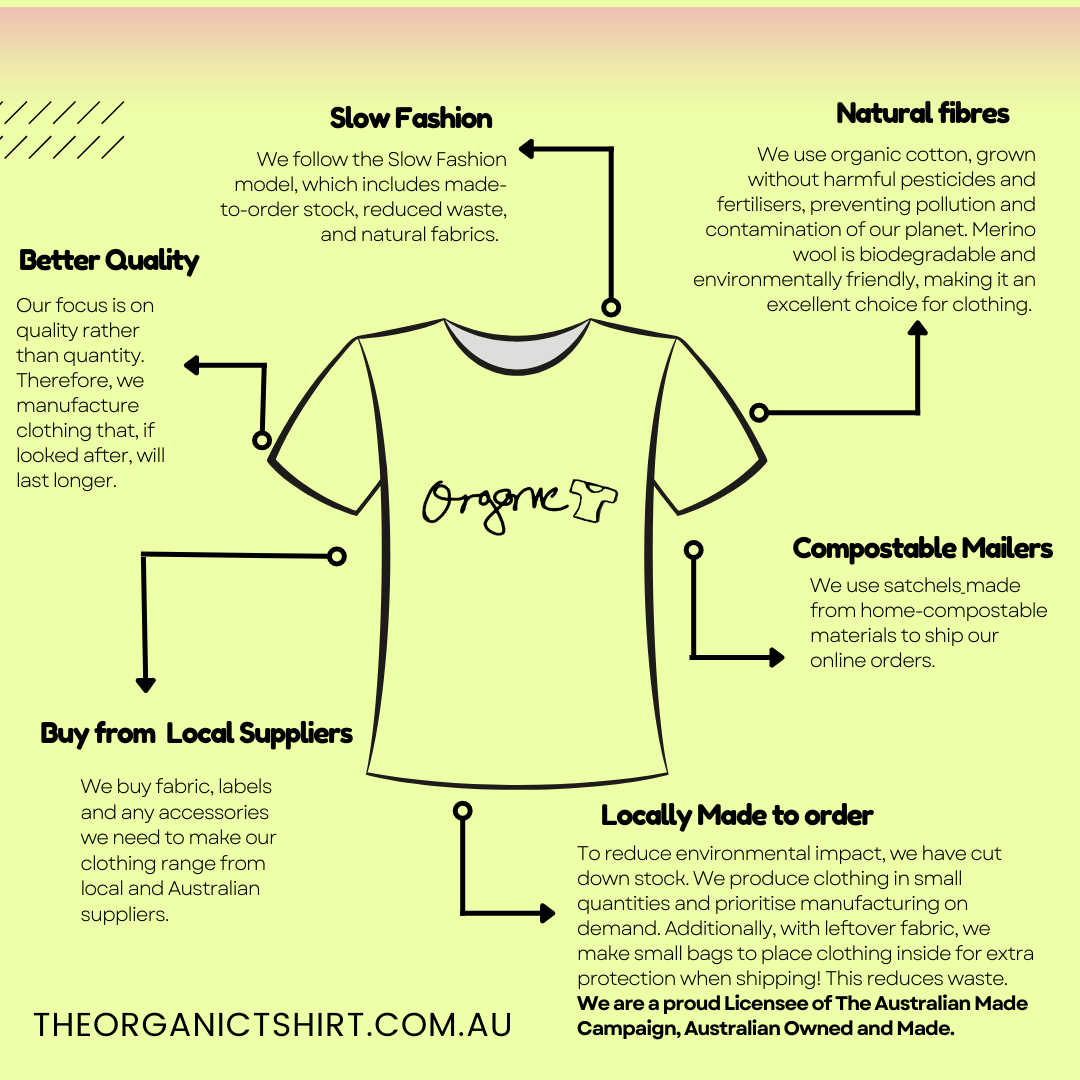 Our Mission
At The Organic T-shirt, we adhere to sustainable procedures in manufacturing 100% Australian-made clothing. Our dedication to sustainability and ethical practices allows us to provide our customers with the highest quality clothing while minimising our environmental impact. Our goal is to manufacture durable garments that can last a very long time if properly cared for, thus reducing clothing waste. We envision a world where customers can have the convenience of getting stylish new clothing without sacrificing the planet's well-being. 
Sandro & Stefania
Australian Made & Australian Owned

We are a proud Licensee of the Australian Made Campaign. A product can be described as 'Australian made' or 'made in Australia' when the material is cut, sewn and finished into a t-shirt in Australia and the substantial transformation test has been met.

We are a proud Licensee of Australian Owned & Made. Consumers that support local production and locally owned businesses like The Organic Tshirt ensure that money spent remains in Australia. This helps our local economy.

Sustainable Fashion

Our approach is to embrace the trend of slow fashion, which means having minimum stock, making clothing in small quantities and prioritising manufacturing on demand. We are committed to implementing sustainable practices throughout our business operations. For instance, we have transitioned from paper to digital documents and focus on reducing waste by repurposing leftover fabric into bags to protect garments during shipping. Any small unused fabric is donated to other businesses and used as cleaning rags. To lessen our environmental impact, we make a conscious effort to reduce our carbon footprint by sourcing from Australian suppliers all the materials we use to make our clothes, from the fabric to the label. Moreover, we use eco-friendly packaging when shipping our products, using home-compostable mailers.

Organic Cotton & Merino Wool

We are committed to using sustainable fabrics that are environmentally friendly and have a longer lifespan. Our preferred fabrics are 100% organic cotton and 100% Australian Merino wool. Organic cotton is grown without harmful pesticides and fertilisers, which helps prevent pollution and contamination of our planet. Merino wool is biodegradable and environmentally friendly. It is soft and warm in winter and cool and comfortable in summer. It is great for hiking, running, and bushwalking and is an excellent choice for every day of the week. 
Shop our top-selling products
Our Tees
Regular price
Sale price
$45.00 AUD
Unit price
per
Wholesale & Customised Orders
1) Select the garment from our online store

You are welcome to select any garment from our extensive collection on our online store, or we can customise your style. Please bear in mind that to request a quote for wholesale pricing, the Minimum Order Quantity (MOQ) is set at 50 items of the same style. If you want to order less than 50 items, please get in touch with us. Additionally, it is essential to note that all our items are made to order, so we run a very minimum stock. This helps our business to be sustainable.

Check Our Collections

2) Decide if you want them custom printed or plain

Make a statement with our printed or plain garments. We offer DTG and Heat Transfer Vinyl choices. You can choose our printed t-shirts or simply send your artwork to us to get a customised quote.

Custom Printing

3) Send us an email

Once you have made your selections regarding style, colour, and size, please do not hesitate to reach out to us for a personalised quote.

If you need to attach your artwork for a printing quote please send us an email at

info@theorganictshirt.com.au

Contact Us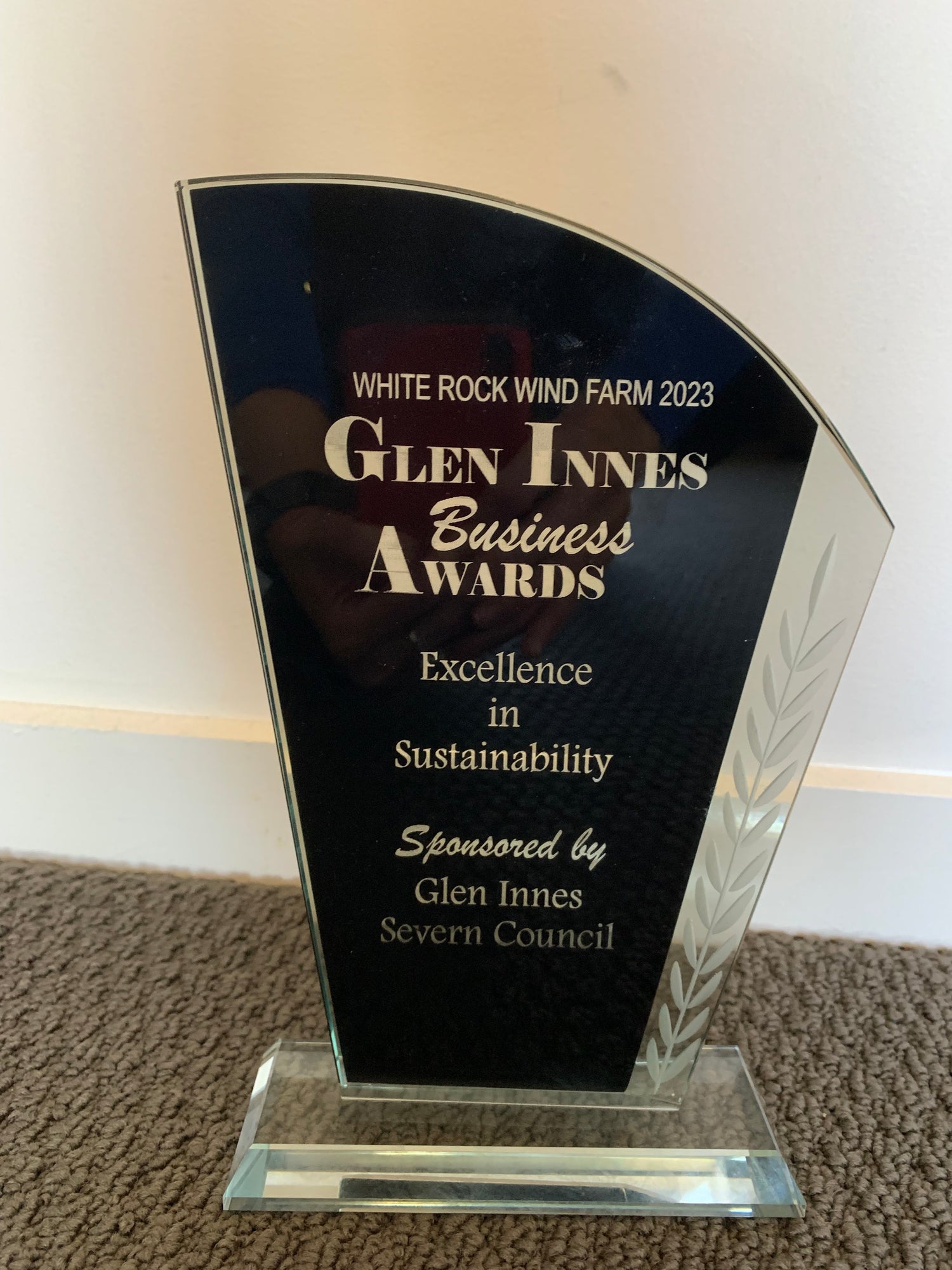 The Organic T-Shirt was named the winner of the "Excellence in Sustainability" award and the White Rock Wind Farm 2023 Glen Innes Business Awards.
We are truly grateful for this honour and extend our heartfelt thanks to everyone involved.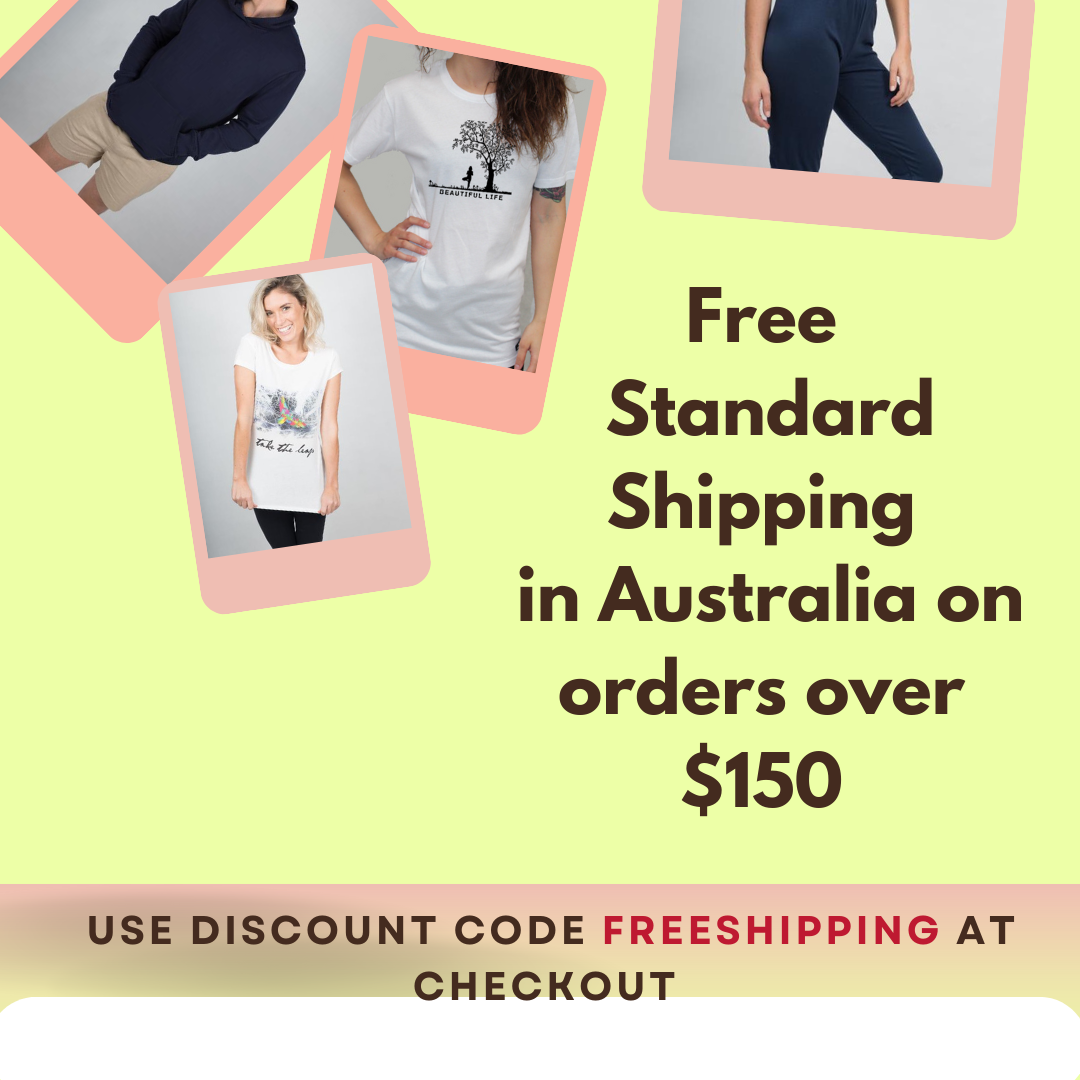 Shipping
FLAT RATE - Standard Shipping with Tracking Number on domestic orders (within Australia) $9.95.
Free Standard Shipping in Australia on orders over $150. Please use discount code FREESHIPPING at checkout
More details
Sheep Farm Visit - Glen Innes